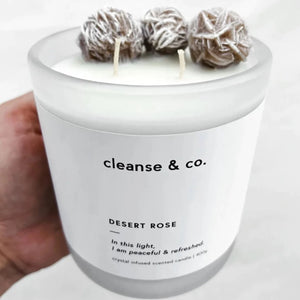 Desert Rose Candle - Peaceful & Refreshed.
Create a space of vibrational solace and intention with the properties of the Desert Rose crystal. Nested in a blend of creamy, vegan-friendly soy & coconut wax, infused with incredible room-filling scents, this statement candle is the perfect addition to your self-care ritual.
Vanilla Bean —  A delicious vanilla aroma entwined with warmth and love. This blend will enrich your senses and unearth feelings of a warm embrace.
Approx 70 hours burn time.