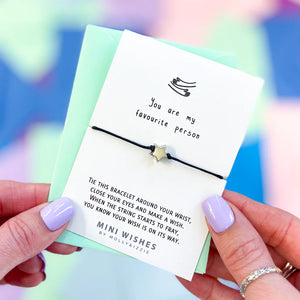 What are Mini Wishes?
Mini Wishes are a fun way to give someone you care for a wish. All they have to do is make a wish and then tie the cord around their wrist. When the cord finally wears down and breaks the wish is released and will come true - so they say!

The bracelet is made from 1mm thick, waxed cotton cord and finished with a Rhodium star bead.

Little Wishes cords are 35mm in length and untied, so they will fit any size of wrist. Simply remove the cord from the card and tie to secure in place, then cut off the ends.
They are presented on a smooth card and each come with a little matching envelope.

Card Dimensions: A7 - 74mm x 105mm
If you would like to send this directly to the recipient we can gift wrap and even add a hand written card - just make sure you leave us a note at checkout!