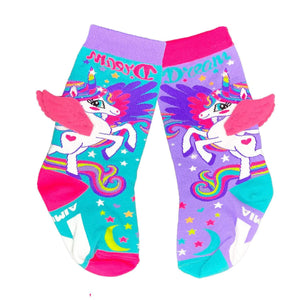 Add some fun to your day with MADMIA's Mini Pony socks! 

They're a mix and match pair of blue and purple, with stars, hearts and a unicorn print. Complete with wings to make you 'feel' like you're flying while dancing! 
Made with high-quality materials, these bold socks are not only cute and playful, but also incredibly comfortable. 
Baby Socks Size. Most suitable size for babies aged 6 months - 2 years.